21
« Last post by jim martin on March 12, 2019, 07:52:44 PM »
tested those freshly heli-coiled threads and remounted the exhaust system and proceeded with the next stage .
from the side you can see the turbo i've been running is a old school on center exhaust housing unit.
nothing wrong with it ,and does offer some options when mounting space becomes a issue ,but by design can limit exhaust flow
during higher rpm and possibly engine output which directly limits horsepower potential .
im always asked what kind of turbo this is and what size , so if your in the turbo know here's the scoop.
the turbo is a combination Air research and Garrett - T4 flange ,P exhaust wheel with a .96 a/r exhaust housing - cold side a/r .60 with a new 57 billet wheel .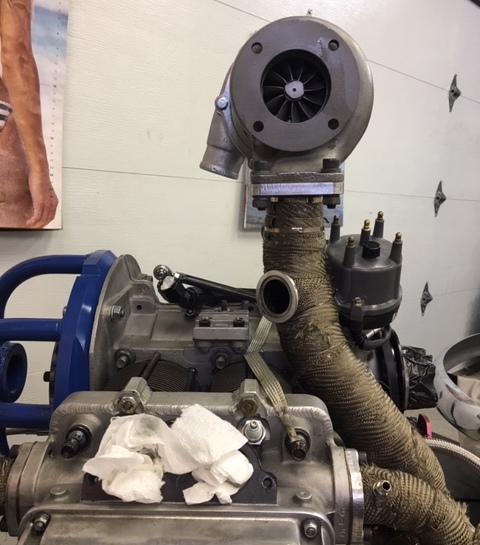 time to mount the down pipe and wastegate ,need those on there for mock up
gota keep the downpipe exit in the same spot right? yah but if nothings changed who cares?
sometimes things gotta go
time to eliminate the potential on center restriction and unleash any free power i can .
new .96 tangential exhaust housing ,so now you can see why the mock up was so important
its all gotta work and yes it will fit in the car still ,moves fwd almost 3" and lower by 3/4".
Mike Merrel at Turbos Direct is the man and if you need help , please call him at 623 376 2562
http://www.turbosdirect.com/
so my old turbo which is the same turbo needed help and no one out here could help.
One call to Mike and it was done .this gave me a chance to discuss my turbo and what it all means .
he fixed the thrust and endplay that was over .011" and oil leakage issue ,installed the new billet inlet wheel and supplied the
exhaust housing .
numbers go like this , as per Mike with the turbo in its original form would run out of compressor side before exhaust ,
(made no sense to me but what do i know),
so after endplay and thrust were repaired, he replacing the inlet wheel with a new billet wheel , that alone will allow for a
25h.p potential and swapping out the exhaust housing another 25 h.p
so before the turbo was maybe good for 400-425 ish now it'll push 475 plus ish and do it very efficiently , which is the most important
.it will make the same out-put 3 psi lower than before and never hit a wall till the inlet cannot move any more air .
sounds good to me so lets weld up a new pipe next .off come some DEI titanium wrap and trim the top
of the old downtube off to make room for the new pipe conversion